Web Counters
Website Visitors
Since
July 8, 2013

Visitors Today
Jun 02, 2020

Welcome to the Official Website for the Avondale Fire Company

Chester County COVID-19 Information

**PRICE REDUCED***
1992 Mack Engine For Sale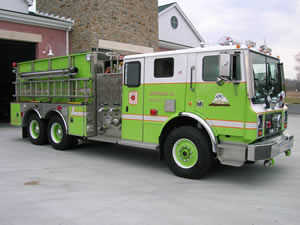 Vehicle into a House

Assistant Chief Richard Franks Jr, May 27

Around 2130 hours on Tuesday, May 27th the Avondale Fire Company was dispatched to the 1600 block of Baltimore Pike for a Motor Vehicle Accident. Chief 23 made the response and quickly arrived to find a single vehicle into an occupied residence. After an initial assessment was performed, it was reported that the vehicle had only 1 occupant, who self extricated from the vehicle and the residence. The ... (Full Story & Photos)


1st Due Engine Crew (FDE - Engine 23-1).

3 Alarm Fire at New Garden Plaza

Junior Firefighter Joey D'Ambrosio, May 12

Tuesday evening at 1740 hours the Avondale, Kennett, Longwood, Po-Mar-Lin and Hockessin Fire Companies were alerted for a reported commercial building fire in the 700 block of West Cypress Street. Deputy 23 responded on dispatch and was advised that callers saw smoke coming from the roof of the New Garden Plaza II Shopping Center. Deputy 23 arrived moments later and confirmed that report and requested ... (Full Story & Photos)

Parade for Healthcare Workers at Tower Health

Junior Firefighter Joey D'Ambrosio, May 06

The Avondale Fire Company, along with units from West Grove, Kennett, Cochranville, Longwood, Union of Oxford Fire Companies, and multiple police agencies participated in an appreciation parade on the Tower Health campus (Jennersville).
This parade was to honor all of the doctors, nurses and healthcare workers that are working tirelessly during the pandemic of COVID-19!

The officers and members ... (Full Story & Photos)



Units waiting for the parade to start.


Engine 23-1 arrived to find fire showing.

Working Mushroom House Fire

Chief Hoseman Brandon Cole, May 04

The Avondale Fire Company along with West Grove, Hockessin, Kennett and Longwood Fire Companies were dispatched to the 500 block of Penn Green Road for a commercial fire reported as a mushroom house on fire. Engine 23-1 responded and received additional reports of the police on scene with a building fully involved. Engine 23-1 arrived with the First Due Engine assignment, laid a 5" supply line from ... (Full Story & Photos)

Accident with Wires Down

Fire Police T.J. Male, May 01

Just after 11:00pm on Friday, May 1st, Avondale Fire Company was dispatched for an automobile accident in the 500 block of Hillendale Road in New Garden Twp. This section of Hillendale Road was closed at the time of the accident due to multiple trees and wires down across the roadway from the storms that came through the area on April 30th. The road closure was marked using barricades and "Road Closed" ... (Full Story & Photos)

Your feedback is important to us! Feel free to sign the guestbook.
Live Chester County Scanner Feed
2020 Incidents
Fire
EMS
Jan
38
118
Feb
47
125
Mar
27
95
Apr
52
87
May
Jun
Jul
Aug
Sep
Oct
Nov
Dec
Total
164
425
2019 Incidents
Fire
EMS
Jan
54
115
Feb
27
101
Mar
36
91
Apr
49
115
May
42
128
Jun
42
112
Jul
45
131
Aug
53
124
Sep
28
110
Oct
59
124
Nov
52
107
Dec
38
135
Total
525
1393
Past Incidents
Fire
EMS
2019
525
1393
2018
578
1460
2017
486
1411
2016
470
1277
2015
492
1183
2014
498
1338
2013
502
1304
2012
485
1381
2011
481
1331
2010
540
1329
2009
489
1301
2008
491
1302