Web Counters
Website Visitors
Since
July 8, 2013

Visitors Today
Aug 15, 2018

Welcome to the Official Website for the Avondale Fire Company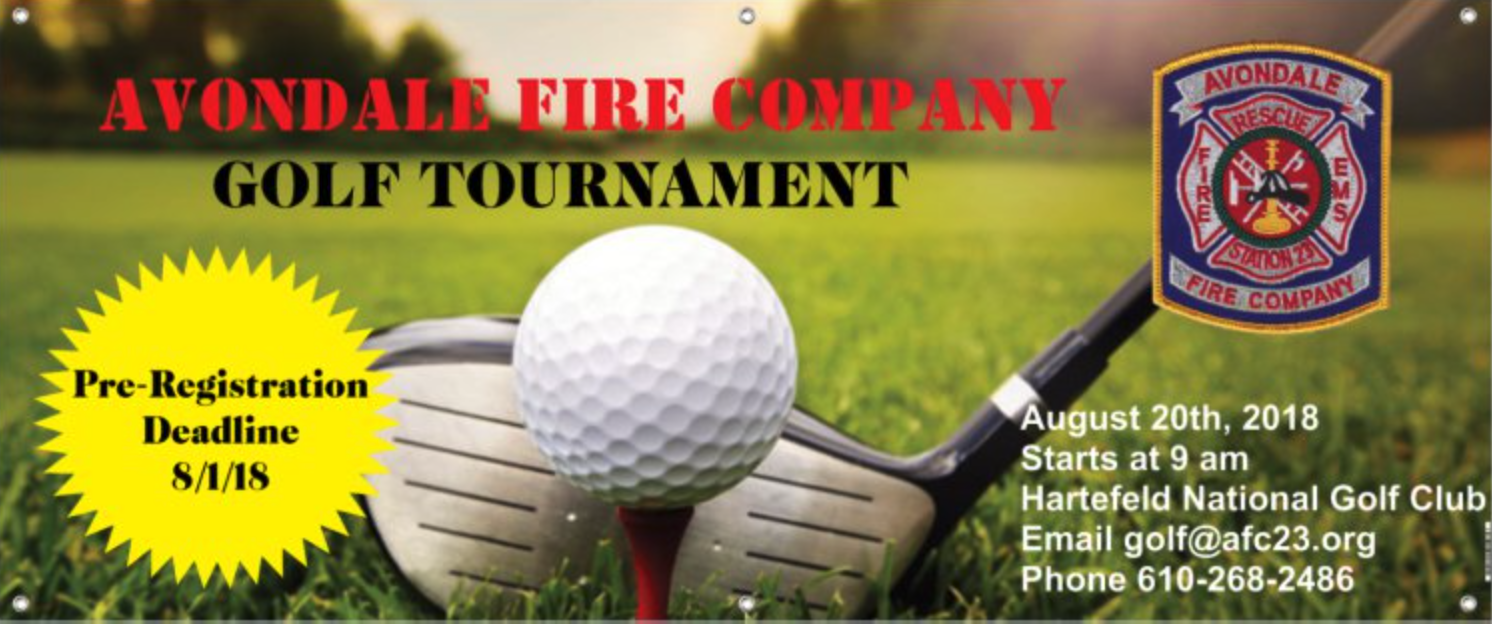 Fire Company Loses an Icon

Avondale Fire Company, July 19

The Avondale Fire Company is saddened to announce the passing of Chief Engineer Richard J. Testa.

Richie is a second generation Avondale Fireman with 59 years of service, serving as a Chief Officer for fifteen years and more recently over three decades of service as Chief Engineer. Following in his footsteps, his sons Augie and Paul also served the Fire Company as members with leadership roles.

A ... (Full Story & Photos)

2018 Avondale Golf Tournament

Avondale Fire Company, July 18

The Avondale Fire Company will host its third annual golf tournament at a new location!! We are excited to announce that the 2018 Golf Tournament will take place at the Hartefeld National Golf Club. The event will take place on August 20, 2018. The event will include catered lunch and beverages throughout the day. The tournament will be a 4-person scramble(better ball) style event. Please come ... (Full Story & Photos)

Car Fire

Junior Firefighter Brandon Cole, July 07

The Avondale Fire Company was dispatched to the 1600 block of Gap Newport Pike for a reported car fire at 0953 hours. The Chief and Assistant responded along with Rescue 23 with a crew of 5. Assistant 23 was first to arrive and reported a vehicle well involved. Rescue 23 arrived pulling a 1 3/4" handline. Tanker 23 arrived supplying the rescue. The rescue crew went right to work putting the fire under ... (Full Story & Photos)

Severe Storms Strike-Avondale has 3 Calls

Junior Firefighter Brandon Cole, May 15

On May 15th, Avondale ran 3 calls after severe storms came into the area. .

Avondale was first dispatched for a lighting strike that struck a tree to the rear of the Acme. Chief 23 arrived and found nothing in the area of where the caller stated the tree was. Chief and 23-30 searched around the area for about 10 minutes before clearing, with an un-founded incident.

Avondale's second call was ... (Full Story & Photos)

Accident Reported with Entrapment

Junior Firefighter Brandon Cole, May 11

The Avondale Fire Company along with medic 94 were dispatched for a reported accident with entrapment at Limestone and Ewart Roads on Friday, May 11th. Chief 23 responded within a minute of dispatch and received a report of one vehicle on its side with the driver trapped. Chief 23 arrived soon after confirming the report with no entrapment. Chief 23 advised the fire police to shut down the intersection ... (Full Story & Photos)



One vehicle was on its side.

Your feedback is important to us! Feel free to sign the guestbook.
Live Chester County Scanner Feed
2018 Incidents
Fire
EMS
Jan
59
117
Feb
31
108
Mar
41
117
Apr
45
107
May
49
121
Jun
61
138
Jul
50
127
Aug
Sep
Oct
Nov
Dec
Total
336
835
2017 Incidents
Fire
EMS
Jan
39
120
Feb
34
121
Mar
39
125
Apr
37
96
May
48
113
Jun
34
105
Jul
48
121
Aug
33
104
Sep
35
124
Oct
53
135
Nov
40
117
Dec
46
130
Total
486
1411
Past Incidents
Fire
EMS
2017
486
1411
2016
470
1277
2015
492
1183
2014
498
1338
2013
502
1304
2012
485
1381
2011
481
1331
2010
540
1329
2009
489
1301
2008
491
1302